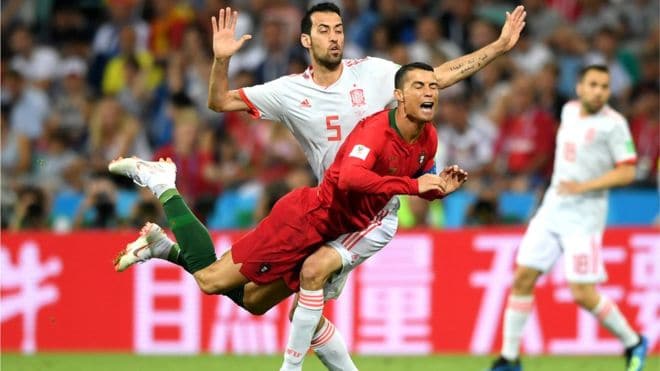 Ronald in action during Spain vs Portugal match
Its just three days since the World Cup started and 16 countries have already shown the world why they are in Russia.
This are some of the things that make us wonder how the remaining 27 days of the competition would be.
After just one match, Ronaldo is already eyeing the golden boot of the tournament as his hat trick help Portugal play a 3-3 draw with Spain.
But thats not the only surprising moment at the World Cup.
Four players have score late goals, three of those goals help some teams win match while Ronaldo's own help them draw their match.
Even though Ronaldo scored three goals, he was still not named the man of the match it was Isco that was named man of the match
Morocco goalkeeper Mohamed El-Shenawy refused to claim man of the match during the game that his team lost to Iran 1-0, He said the man of the match gift they wanted to give him contained achohol so he refused to collect it.
Out of the four first four matches that have been played, three penalties have been scored. Ronaldo scored for Portugal, Antoine Griezmann scored for France while Mile Jethenak scored for Australia.
Africa has not won a match at the 2018 World Cup as Egypt and Morocco lost their first match.