Beyoncé and her rapper husband Jay Z have released a surprise joint album on the streaming service Tidal.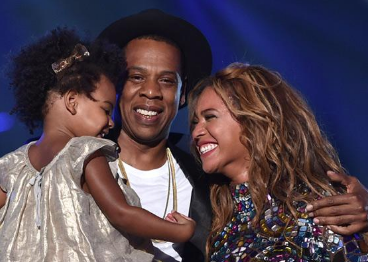 Jay Z and Beyonce and their daughter Blue Ivy: The Carters release a surprise joint album
The singer, 36, announced Everything is Love, a nine-track collaboration with the rapper, by posting a clip from a video for one of the album's tracks on social media.
The announcement came as the couple played their second night at the London Stadium as part of their OTR II tour, the Independent reported.
The record, which is only available on subscription streaming service Tidal, features nine tracks Summer, Apes**t, Boss, Nice, 713, Friends, Heard About Us, Black Effect and Lovehappy.
A collaborative effort from the pair had been mooted for several years, while Beyoncé herself confirmed she had been working on a record last year.
In an interview with the New York Times, Jay Z, real name Shawn Carter, said they had been working on music together during the making of his release 4:44 and her hit album Lemonade.
"We were using our art almost like a therapy session. And we started making music together," he said.
"The music she was making at that time was further along. So her album came out as opposed to the joint album that we were working on.
We still have a lot of that music." The accompanying artwork for the new album could be seen on the Tidal website and in a tweet announcing the album's release on Beyonce's official Twitter page.
It depicts a woman standing over a man while she combs his hair. Leonardo Da Vinci's Mona Lisa painting can be seen hanging in the background of the picture. Jay-Z launched Tidal in 2015 as a subscription-based, artist-owned streaming service